"Find a job you enjoy doing, and you will never have to work a day in your life," goes the famous Mark Twain line. For Anna Tangles, that is very much true.
Not that it was planned, exactly. What started as a relaxation technique and a hobby during lockdown unexpectedly became a viable career path. That's quite often how it goes: if you love something, you plough everything into it, and with that, success often naturally follows. And that is part of the message that Anna hopes to spread.
This weekend, the MCL36 will look slightly different when it takes to the track for free practice. In collaboration with Official Partner BAT's brand Vuse, our car will don a unique, one-off livery in Abu Dhabi, designed by Anna Tangles, as part of the Driven by change initiative.
Until yesterday, only a minority will have heard of Anna – at the time of writing, her Instagram following stands at 2,384 – but her designs will soon be seen by millions worldwide. Last year's season finale drew 108.7m viewers, with a further 153,000 in attendance. Anything close to those numbers would be phenomenal exposure for Anna. Her social following this time next year will hopefully look considerably different.
Introducing Anna
So, who is Anna, and why was she selected? Driven by Change aims to provide a global platform for emerging, underrepresented artists. Anna's talents are clear to see, her design both unique and eye-catching, she just needed the stage to show it off.
Anna is a Lebanese artist who grew up living in the United Arab Emirates. A natural creative, Anna is a Fine Art Major and was a freelance Graphic Designer.
Drawing has always been a therapeutic escape for Anna, a way to slow the world down, shut off and recharge her batteries. The need for this escape only increased during the COVID-19 pandemic, and this led to the creation of her Tangles design that will emblazon the MCL36 in Abu Dhabi.
"My mother works in education, and my father is an architect," Anna explains. " I come from a creative background, and my love of illustration started at a young age. Whether it was in school or college or even when I worked in advertising, I would always carry around journals full of doodles.
"When I was young, I was very into ornamental drawing, and then zentangles, and from there, I switched to very geometric, architectural style drawings.
"There became a point where that all shifted into something where I didn't have a preconceived idea of what I was drawing, I just let my mind flow. It would start with one line and go from there, and that is where Tangles comes from."
Anna began to document that process, and the response was overwhelming. The relaxation and therapeutic effects she got from drawing were experienced by others when watching her create.
"I don't know what happened, that's not something I had expected," she continues. "That ripple effect was so rewarding and shows how powerful the mind is.
"Working in a corporate setting never really worked out for me, and I leant a lot into my illustration, but it was never about finding a new career per se, it was a hobby that comforted me. Just like somebody gets into fitness or yoga, I drew.
"During lockdown, work slowed, and I had more time to draw, and more periods where drawing helped me because my anxiety was at its peak with all of the uncertainty. I think that uncertainty triggered this need to lean on my creativity, and through that, my work developed and then very, very quickly, everything started to change."
Succeeding Rabab Tantawy
It was through the documentation of her work, and the online workshops that she began to host, that Anna met Rabab Tantawy, who was the visionary behind last year's Driven by Change livery.
The two met prior to Rabab's work on last season's one-off MCL35M design. Rabab's success helped to encourage and inspire Anna, who saw how the initiative positively impacted not only Rabab's career but the wider artistic community they are both a part of.
Less than a year after watching her friend lead the 2021 Driven by Change programme, Anna was selected to design this year's livery.
"I am hoping for a similar reaction to Rabab," she continues. "Not from a personal point of view, but in the way that it encouraged and inspired others to feel like there is a place for them in this world. It's great that McLaren and Vuse are pioneering that, especially in Formula 1.
"Formula 1 is about continuously finding ways to make things better, it doesn't stop. And the way I look at my artwork is very similar, no piece is ever finished, there is always a way to improve it, grow it and refine it – I will never say that any piece of mine is finished."
Working with the MCL36
The basis of Anna's artwork already existed with the Tangles design, the task was to create a version that would translate onto our F1 machinery. The MCL36 isn't exactly your standard canvas, though. Anna's design not only had to work fluently with our pre-existing colour scheme but also fit onto an irregular shape, and without impacting our partners' positions on the car.
"Working on this has taken me out of my comfort zone," she continues. "I'm someone who works from home, who creates and has little projects here and there. To be put on something of this scale is not something I had imagined before.
"You have to consider things that you would never normally consider as an artist, such as aerodynamics, and that is very eye-opening – because of course, you cannot impact the speed in any way. That would be true of anywhere on the car, but especially on the sides, where a lot of my design sits.
"It was insane, there were so many details that I would never have thought of. For example, the amount of ink required – I don't think people realise how much work goes into placing a design onto a car that needs to get to an unimaginable speed."
Having put in an extreme amount of effort, working under a great deal of personal pressure, Anna will finally see her design come to life out on track this weekend. In her mind, it will not just be an extraordinary moment of personal achievement but a much broader accomplishment for any aspiring creative.
Inspiring the next generation
Given that Anna initially took up illustration as a form of relaxation, you might expect that the thought of millions of people seeing her work blast around the Yas Marina Circuit on the MCL36 would evoke the type of pressure that required even more drawing, and yet, she seems remarkably calm.
And that's the beauty of Anna's work. Even when faced with such a daunting challenge, her creativity relaxes her. That's what Anna's artwork has always been about, and she never lost that during the process.
"I'm not anxious, I am more excited," she explains. "I am still drawing a lot, but not because I'm anxious, I'm just very, very excited. It is a very different feeling, I'm overwhelmed because this is big and to be part of this platform is incredible. I do feel a responsibility that I didn't think I would feel before.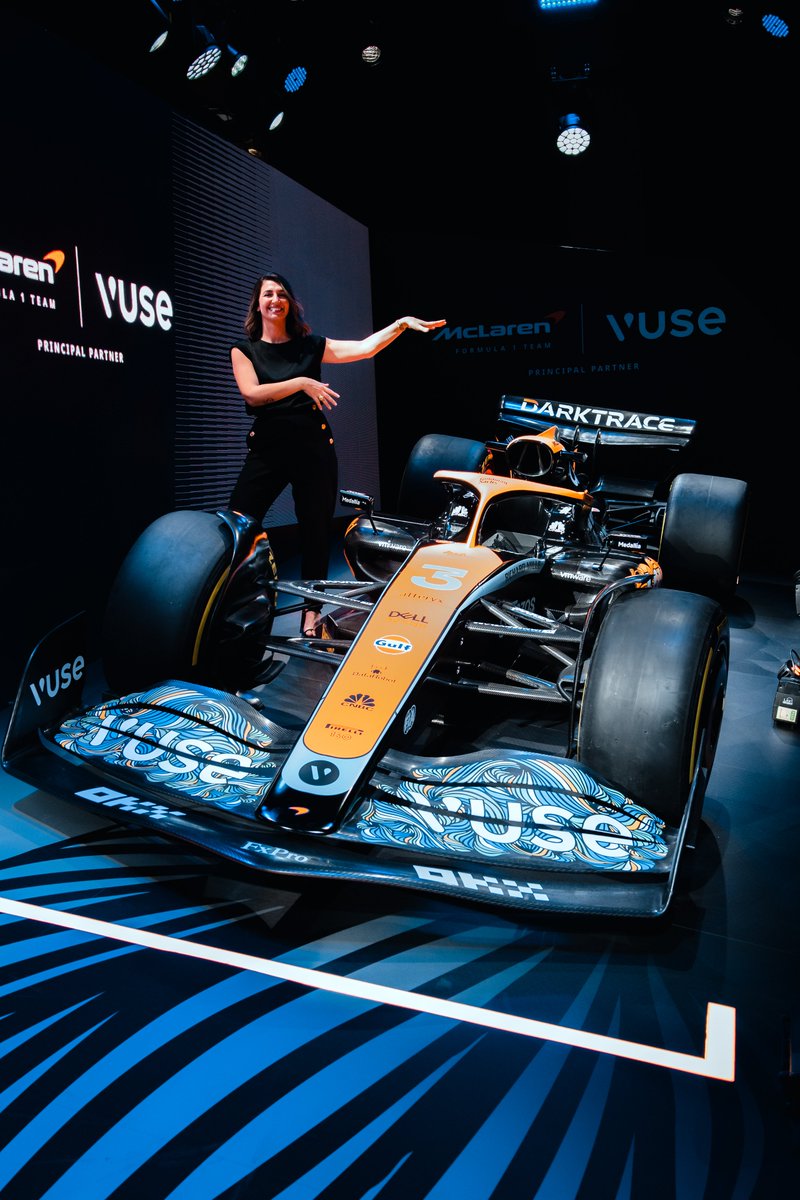 "By being part of this program, I have a responsibility to pass this on to somebody else and to encourage others. There's no point in being part of something this big, if, afterwards, that is it. There needs to be something that happens next as a result."
But what about the moment when she physically witnesses her design drive out of the garage and onto the track, will she feel any nerves then? " Ask me next week. I don't know," she smiles. "I didn't think I would be even more astonished when I saw it in real life, but when I saw it for the first time at the McLaren Technology Centre, I was.
"Right now, I can only imagine what it will look like racing around Abu Dhabi's Yas Marina Circuit. It will be a moving canvas but at an astonishing speed."
As well as increasing her profile, the Driven by Change programme has also increased Anna's confidence. It's forced her to believe in herself and to stop saying, "I'm not good enough," or "it isn't my place to do this."
By removing that boundary, she has flourished, and she hopes that seeing her artwork on track can have a similarly transformative effect on others.
"The programme tells you: 'Hey, you can be there, this is for you, you can do this', which is extremely motivating and liberating. There was a lot of encouragement from Rabab, both physically and through seeing her designs on the car – now I want to say to people, 'hey, you can do this too,' and continue the chain reaction."
Join the team
McLaren Plus is our free-to-join fan loyalty programme, bringing McLaren fans closer to the team with the most inclusive, rewarding and open-to-all fan programmes in motorsport.
Sign up now, or current members can amend their details in the form below if necessary.