Read time: 12.4 mins
Lando Norris stands on the brink of becoming just the fifth driver in history to reach the 100-race milestone for McLaren. At 23 years old, he'll also be the youngest.
Heading into his fifth season at the wheel, the increasingly impressive British star has now become the team's most senior driver. He's already hit the track for the first time this season, following a winter break spent heavily in the gym, with some time switching off but remaining active on the ski slopes in Finland. His training regime has been as gruelling as ever but well worth his while.
It's the end of a long day in Bahrain, and Lando is capping off the afternoon by signing a selection of his new-look team hats, whilst speaking to us about the season ahead. He's spent the day completing media duties, pouring over data, and on track driving the MCL60 for the first time. "It's not even that long until the start of the season," he says. The consensus is that the past four years have gone by "too fast."
As early as Round 18 in Qatar, he could become the first driver to hit 100 grands prix for McLaren since Lewis Hamilton, joining an exclusive group (Mika Häkkinen, David Coulthard, Hamilton and Alain Prost).
Still just 23, Lando is the fourth youngest on the 2023 grid, but he is now the 13th most experienced driver. "I've learned an incredible amount if I think of where I was back in 2019 versus where I am now," he says. "I've learned a huge amount both on and off track. When I see videos of myself back then, many things have changed."
"I wouldn't say anything has surprised me in that time because I was reasonably prepared for life in Formula 1, but life is very different when you are in Formula 1. Of course, it is very enjoyable because it was my dream to be here – I have probably one of the best jobs in the world."
The Lando who first tested with the team in Budapest six years ago is a very different one to now. He's not lost the sense of humour that endeared him so much to fans, but he's more confident, more self-assured, and the senior role he's set to assume by becoming the team's eldest driver won't be entirely new to him.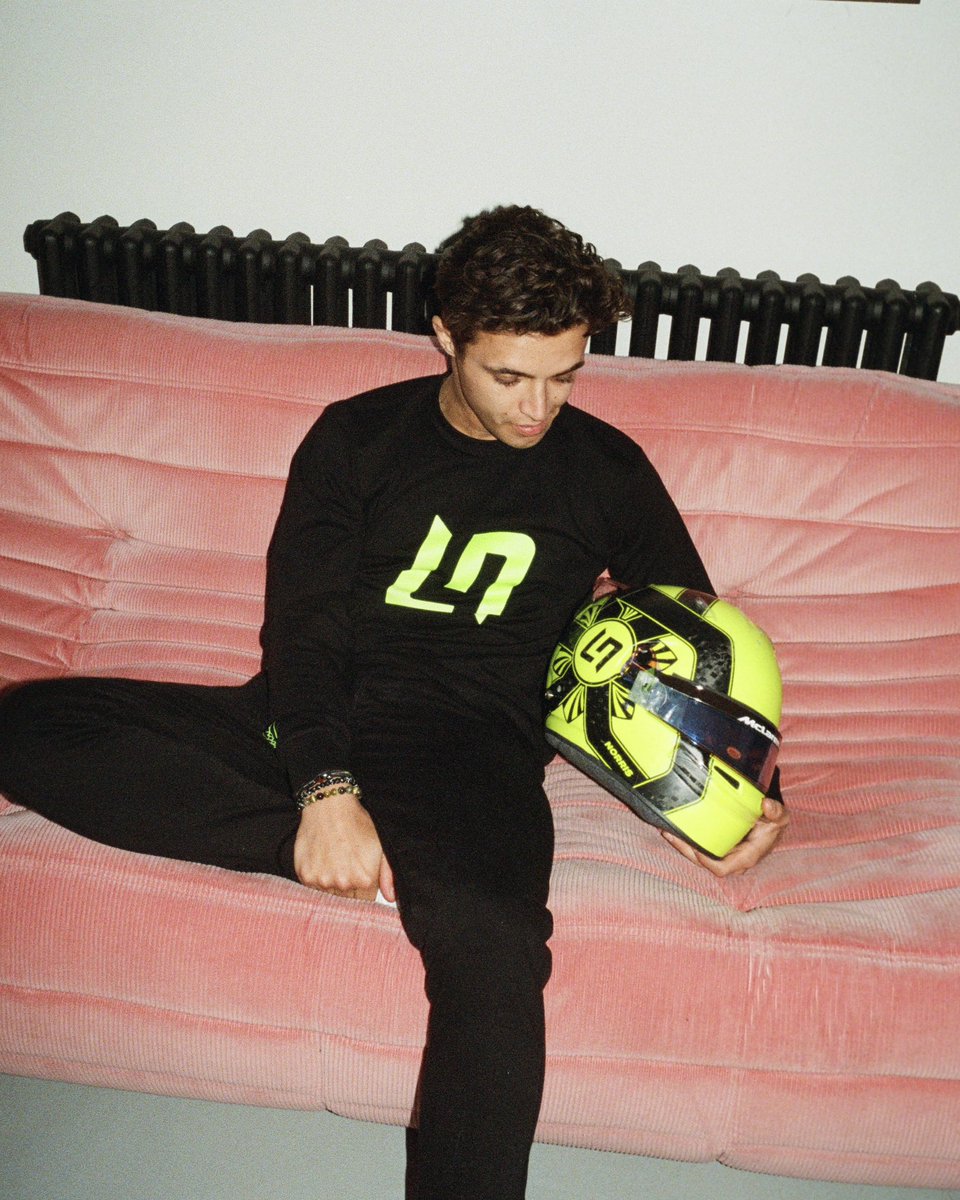 He's been viewed as a leader inside the team for some time now, not because he is proactively trying to be but because of how he naturally carries himself. The age and experience of the driver on the other side of the garage won't change that, it's just the next natural step in his progression.
"Maybe it will be different in the sense that I am the guy with more experience within the team," he says. "But I'll be carrying on as I did before, which was doing my best. I have got more experience in Formula 1, but then Oscar has driven different Formula 1 cars, in terms of testing for other teams, whereas I have only ever driven McLaren cars. So, there will still be things he can add that I cannot simply because of that. But mainly, nothing really changes – I will do my part, and he will do his, it's as simple as that.
"In terms of leadership, I think it is just a natural evolution as a driver. I don't think it's something that I would say I consciously go out of my way to achieve, it's not something I think of. I do whatever I can to help the team and whatever I can to help myself.
"This is a competition, so you have to do whatever you can to create an advantage and help the team gain an advantage over other teams. I never think of myself having to try and be a leader – like I said, you do whatever you can to be the best version of yourself, it's as simple as that."
Oscar will become Lando third's different teammate in F1, following on from Carlos Sainz and Daniel Ricciardo. He's picked stuff up from each of them as part of his development, becoming more well-rounded and adaptable.
"There are so many things. Things you learn on track, different driving styles, ways of driving. You subconsciously and consciously pick up on their comments, how they describe things, their feedback, how they talk to engineers, and how they work. You pick these things up and add them to your way of working."
Adaptability, in particular, has been a key component of Lando's success so far, as it has allowed him to extract the most out of his machinery – forcing himself into the points on some of his car's worse days and taking podiums and a pole on its best days.
That ability to eek every inch out of a car has been important for the team during the peaks and troughs of our journey back to the front of the field. With podiums harder to come by during a transitional 2022 campaign following the regulations overhaul, Lando consistently finished directly behind the top three teams, ending only five races out of the points. He was also the only driver outside Red Bull, Mercedes and Ferrari to score a podium.
His continued success and increased importance to the team doesn't mean he's immune to criticism, though. Lando considers himself to be a perfectionist, and his pursuit of that unobtainable goal – because no one, certainly not in motorsport, can ever be perfect – keeps him driven, amongst plenty else.
There are still many areas where he can improve, and he's comfortable admitting this, although he's less willing to divulge the exact areas: "not everyone needs to know what I need to work on," he says. He's always been able to receive and dish out constructive criticism, but it's an area that's becoming even more crucial as he chases minor gains.
"I think I've always been good at it, but I handle it better now," he assesses. "I was brought up knowing that criticism is simply a way of saying things to improve, so I get a lot of it because I like it, and that is how I work. At the end of the day, it is constructive criticism. If someone says something, it is because they want me to do better and improve, and I know that.
"That is what I want from my team around me. You have to learn to deal with it more when you get into Formula 1, because you're in the public eye a lot, but it is something I like from my team. I wouldn't say that I like it from the public and from the world, but you learn to deal with that side of it.
"It's just part of becoming a racing driver. It's about working together as a team and knowing how you can help the people that you work with. Everyone is doing a job, and everyone is always learning in that respective job. It is the same as me, as a driver. I am always learning something new and trying to improve. So, if I feel like I can help or be a part of their improvement, then that is part of being a racing driver."
Of his 82 grands prix to date, he's qualified in the top 10 on 65 occasions and scored points 61 times. There have been so many standout performances laced within that, it's hard to pick just one. Even in the last 12 months alone, we're spoilt for choice.
As well as his podium at the 2022 Emilia Romagna Grand Prix, there was the fourth place in Singapore he secured in a sodden, gruelling two-hour race on the back of three tricky practice sessions, and there was also his impressive recovery from 15th to sixth in the final 20 laps of the United States Grand Prix.
Imola was rightly lauded as a brilliant against-the-odds performance, but it was his consistency that kept us in the hunt for fourth in the Teams' Championship standings. That we missed out to Alpine hurt, but the progress and development made throughout the season, as well as our reliability, was gratifying. Lando has spoken regularly on record about his faith in McLaren, and that belief remains total.
As much as he strives to be better for himself, he also feels he owes it to his team, given the lengths they go to for him, both at track and at our Woking-based factory. Lando's been a regular presence at the MTC during the off-season, with his time split between racing duties, media and marketing work, and just generally being around the MTC, catching up with factory staff and meeting new starters.
His belief is reaffirmed with every factory visit and every conversation.
The Lando Collection
Get behind Lando and the team with brand new driver essentials for the 2023 season
"It is because of the people that I work with and the plans that are in place," he says of his trust in the team. "The things they have come up with in terms of the infrastructure and so on. I also have the belief that McLaren, as a team, are one of the greatest of all time.
"We have the people in place and things in the works to be able to work on the same level as the top teams, so why shouldn't we be able to compete against them and beat them eventually?"
That journey continues with pace in the coming weeks: his 2023 challenger has been unveiled and is primed to clock serious mileage out on track at the upcoming pre-season test in Bahrain. There's little left to do but get in it and drive.
Join the team
McLaren Plus is our free-to-join fan loyalty programme, bringing McLaren fans closer to the team with the most inclusive, rewarding and open-to-all fan programmes in motorsport.
Sign up now, or current members can amend their details in the form below if necessary.