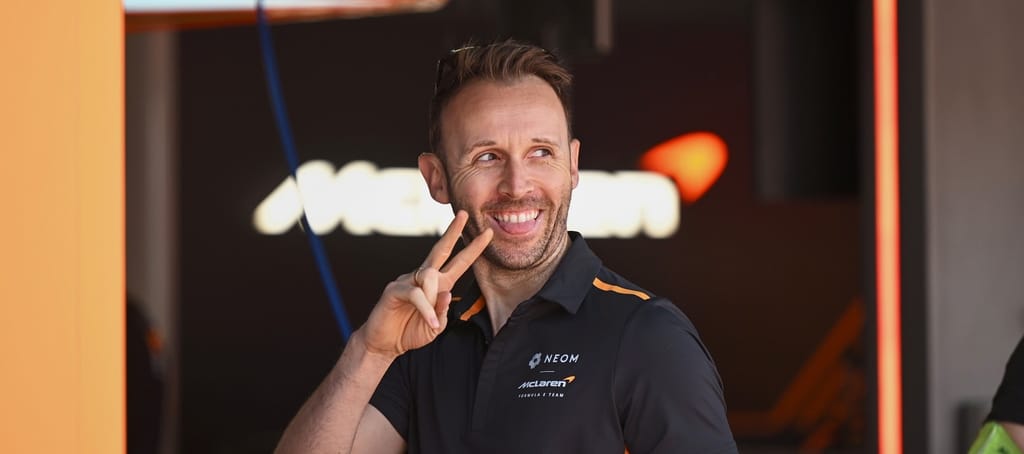 Muhammad Ali, vegetarian burgers and Cape Town: Getting to know the real René Rast
Learn something new about René, whether you've followed him since Formula BMW or Formula E
After a year away, René Rast returned to the Formula E grid for the 2023 campaign, but you may have been wondering where else you've seen him before…
As well as previously competing in FE, the German has also raced in DTM, WEC, Porsche Supercup and GT Series, to name just a few. René has enjoyed a glittering career to date, so you may well already be well aware of his racing achievements, but how well do you know him away from the track?
In order to get to know the real René, we asked the German some quickfire questions. So whether you've watched him compete before or you only met him for the first time at the NEOM McLaren Formula E Team launch, you can learn something new.
Where did you grow up?
I grew up in North Germany, in a small city near Hannover. I had a very peaceful childhood. From a young age, I had a fascination with speed, I loved it. When I was around five, I got my first taste of driving, on motorbikes and quadbikes in fields. I then spent most of my childhood outside of school on karting tracks.
Which athletes did you admire when you were growing up?
Ayrton Senna and Muhammad Ali were two of my favourites that I admired a lot.
How do you shut off from racing?
Being with my family. I have a six-year-old son and enjoy spending time with him and my wife more than anything.
What career would you be doing if you weren't a racing driver?
I like finance, so I would probably work in the finance industry. 
What is your favourite cheat meal?  
Pizza and burgers. I am vegetarian, so I always choose the vegetarian options, but I love vegetarian pizza and burgers. 
What is your favourite movie?
Braveheart or Independence Day. 
What is the best thing about being a racing driver? 
That you are doing what you love. As a kid, I was fascinated by speed and grew up in love with racing. Now as an adult, I am a racing driver. Getting to do something that you love is undoubtedly the best part.
What is your greatest achievement to date? 
Either winning the DTM (Deutsche Tourenwagen Masters) Championship for the first time in 2017, or one of the 24-hour races I have won, such as the 24 Hours of Spa or the 24 Hours of Nürburgring.
What would be your ideal holiday destination?
Probably Cape Town in South Africa. I love the city, and I love the country.